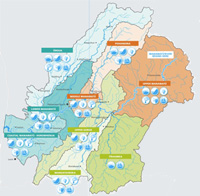 There are many situations where an independent facilitator can help resolve things.
I can help with facilitation of one-off events or long term projects, such as a community working party.
I will often work closely with with representatives of a client (council officers, planning consultants etc) to design a process and ensure that it is adequately resourced.
Once underway, my role is to look after the process and help the parties to communicate, clarify and reach agreement. As an independent, my duty to the group (and the client) is to act fairly and transparently.
Examples of past facilitation work
Upper Waitaki Shared Vision Forum (Chairman) – this forum produced the Mackenzie Agreement that laid out a vision and strategy for the future of the Mackenzie Country.
Levin Sewerage Working Party (Chairman) – this working party considered all aspects of wastewater collection and disposal in Levin. It developed a strategy, consulted with the community and made recommendations to the Horowhenua District Council.
Affco Imlay Odour Working Party (Facilitator) – set up in response to odour and resource consent issues at the Affco Imlay plant in Whanganui.
Ratana Wastewater Working Party (Facilitator) and Marton Wastewater Working Party (Facilitator) – working parties that considered wastewater issues.
Wanganui District Council – Solid Waste Management Strategy Review Team (Chairman) – this working party reviewed a strategy produced by a previous working party.
Horizons Regional Council – Proposed One Plan (Facilitator) – multiparty pre-hearing meetings for the plan.
Single events – I have facilitated/chaired many other events. These have ranged from large public meetings through to small meetings of two or three people.